illustrated by Laurie Caple
Mountain Press, 2013
all ages, ISBN 978-0-87842-606-5

From the unwelcome prickle of the thistle to the generous shade of the catalpa tree, leaves come in a remarkable and surprising variety of shapes, colors, and sizes. Children will be delighted by the fourteen diverse North American plants depicted in Fiddleheads to Fir Trees, from weeping willow and cedar to cattail and poison ivy. The author introduces each plant with a poem and explains its leafy character in a nature note. The plants are organized by season, starting with the tender fiddleheads of a fern in early spring and ending with the snow-dusted needles of the balsam fir. Scientifically trained illustrator Laurie Caple deftly places insects and animals among the foliage in her beautiful watercolors, adding to their visual appeal.
Purchase the book from Mountain Press or from Ingram.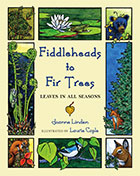 Click on the image below for a larger view of one of this book's pages.